My Skills
Engines/Editors
UnrealEd3, Hammer, Torque X Builder, G.E.C.K. (Fallout 3), Unity, Genesis (Proprietary), Alchemy (proprietary)
Scripting/Programming
Kismet, Hammer I/O, C# and XNA, Lua, RavelScript (Proprietary), VisualScript (proprietary)
Design
Level conception and planning from documentation to finished design, BSP construction and block out, 3D modeling, texturing, static mesh placement and manipulation, lighting, AI placement and pathing design, trigger systems, visual scripting systems
Design Applications
Adobe Photoshop, 3DS Max, Google Sketchup 7
Additional Software
Microsoft Word and Excel, Smartsheet, DevTrack, JIRA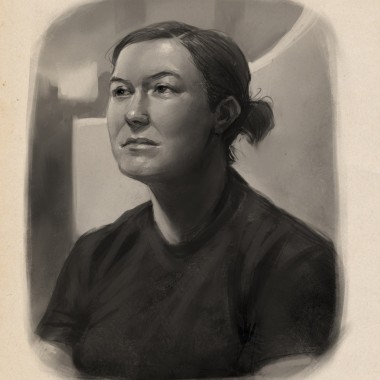 Portrait by Dave Phillips
My name is Rebecca Richards, a level and content designer in the industry since 2011. I've put out three AAA titles since I started, and I've done a lot of side projects during the time before and between each one. The best part of my job is finding out that players remember and feel some kind of impact over some part of a game that I gave them. 
I grew up in Satellite Beach, Florida. After getting my B.A. at the University of Central Florida, I spent a few years doing a "real job" as a technical writer before throwing caution to the wind, moving out to Texas, and enrolling in the level design curriculum at SMU Guildhall. I graduated with a Masters of Interactive Technology in Level Design in December 2010 and began work on my first game, Sorcery, in early 2011.
Since then, I've also worked at Carbine Studios and shipped my second title, WildStar, on June 3rd 2014, and recently joined up at Vicarious Visions to ship my third AAA title in four years.  Since I've entered begun my journey in this industry, I've lived all over the country, from dry Texas to sunny Southern California to frozen upstate New York.  On my last project I shipped my first sequel, Skylanders Superchargers, while working at Vicarious Visions in Albany.
I never thought I'd accumulate so many zip codes when I left Florida behind, but I've loved the adventure that these many experiences gave me and I'm always excited to find the next great adventure waiting for me!In my spare time, I enjoy basking in the glow of my latest video game, watching old episodes of Mystery Science Theater 3000, writing, and caring for my two cats, Lorelei and Carter.